Posts for: November, 2020
By Kathleen M. Geipe, DDS, PA
November 18, 2020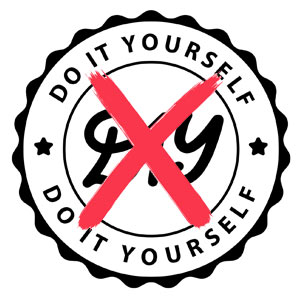 Do-It-Yourself (DIY) is a deeply held American trait for building, renovating or repairing things without the services of a professional. The Internet has only made this tradition easier: There are scores of videos showing people how to do things on their own like build a deck, fix a dryer or bake an award-winning soufflé.
But some things are best left to the experts, which if you tried to do using too little knowledge or a lot less training could turn out disastrous. A prime example is becoming your own orthodontist and using dubious home methods to straighten your teeth. If that sounds preposterous, the American Association of Orthodontists recently reported it does happen, with one in ten of their members saying they have treated patients who attempted their own smile-straightening projects.
Often found on social media, these methods usually involve household items like rubber bands or dental floss to straighten teeth. Like other forms of DIY, the object is to save money. In the end, though, these self-orthodontic methods could result in dental damage that could cost much more to repair (if indeed it's repairable) than what might have been spent with professional orthodontics in the first place.
Utilizing extensive training, experience and artistry, orthodontists work with the mouth's natural ability to move teeth in a precise manner for a planned outcome. They carefully consider each individual patient's jaw and facial structures, along with the severity and complexity of their bite problem, as they design and implement a treatment plan involving braces, clear aligners or other orthodontic appliances.
A rigged homemade device to move teeth can't adequately take these factors into account. As a result, you may be risking permanent gum and bone damage—and you may even lose teeth in the process. Even if repairable, such damage could require oral surgery, cosmetic dentistry or more extensive orthodontic procedures.
In the end, you're highly unlikely to be successful at DIY orthodontics—and you won't save any money. A healthy and beautiful smile is well worth the cost of professional, high-quality orthodontics.
If you would like more information on orthodontic options, please contact us or schedule an appointment for a consultation.
By Kathleen M. Geipe, DDS, PA
November 08, 2020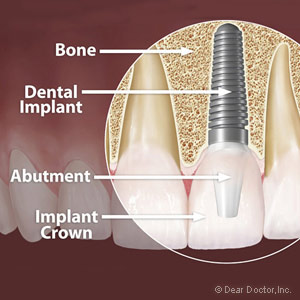 What happens when you lose a tooth? In the short-run, it can certainly undermine your appearance and ability to efficiently chew and digest food. But a chain of events could also be set in motion that may cause the most harm to your appearance and health—and it all has to do with bone loss.
Our bones aren't just rigid structures providing a frame for our bodies. They're living tissue with other purposes like producing blood cells and regulating the endocrine system. Bone tissue is constantly replenishing itself as older cells die and newer ones take their place.
In the jawbone, the pressure generated by the teeth while biting and chewing travels through the roots to stimulate the growth of new bone. If a tooth goes missing, however, the bone around the tooth also loses this growth stimulus.
This can cause normal bone growth to slow so that dying bone cells aren't sufficiently replaced. The bone may then diminish at an alarming rate—a decrease in width of about 25% in the first year after a tooth loss and several millimeters in height after only a few years.
This bone loss can continue to advance, especially if multiple teeth are lost, until the jaw structure as a whole loses significant height. The bite may then collapse, forcing the front teeth to push forward. In this state, a person may not be able to adequately bite or chew food. It can also damage their appearance—their smile suffers, of course, but their entire face may also appear shrunken.
You may be able to avoid this scenario if you replace missing teeth with dental implants. In addition to their life-likeness and durability, implants can also stop or slow bone loss. This is because titanium, the principle metal used in an implant, has a strong affinity with bone: Bone cells readily grow and attach to the titanium surface and foster new growth.
But don't wait: Bone loss could eventually extend beyond what an implant can accommodate—you may then need grafting to build up the bone or consider a different type of restoration. So, speak with your dentist as soon as possible about an implant restoration for a lost tooth to help avoid significant bone loss.
If you would like more information on how tooth loss can affect your life, please contact us or schedule an appointment for a consultation. You can also learn more about this topic by reading the Dear Doctor magazine article "The Hidden Consequences of Losing Teeth."