Posts for tag: missing teeth
By Kathleen M. Geipe, DDS, PA
September 09, 2020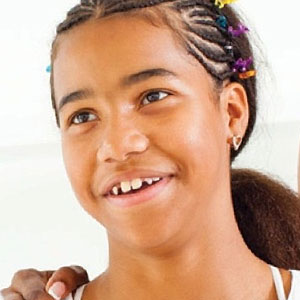 On the way to adulthood, permanent teeth steadily erupt until, if all goes normally, you have a full set of teeth. Sometimes, though, one or more teeth may fail to form. This not only can affect your dental health, but it could also diminish your smile.
For example, if the lateral incisors on either side of the central incisors (the two teeth front and center) don't develop, it could create a smile that's "not quite right." But we can vastly improve such a smile in one of three unique ways.
The first is to fill the resulting gap through canine substitution. This is an orthodontic method in which we use braces to move the pointed canine teeth, which normally position on the other side of the missing laterals, closer to the central incisors. This choice is determined by the size of the canine teeth. If they are slim in width, they can be re-shaped to make them appear more like a lateral incisor, and the gums possibly reshaped as well around them through cosmetic surgery.
We can also install a dental bridge, an appliance that fills the missing lateral space with prosthetic teeth. A traditional bridge requires the teeth on either side of the gap to be reduced in size, which becomes a permanent alteration to accommodate these crowns. This is a disadvantage in a young person.  We can also use a "bonded bridge" which uses adhesives to attach extended pieces (or "wings") of dental material from either side of the prosthetic tooth to one or more supporting teeth.  These wings are behind the permanent teeth.  Though not as durable as a traditional bridge, it does avoid altering the support teeth.
Finally, we can replace the missing teeth with dental implants. In this method, we install titanium metal posts into the jawbone at the missing tooth locations and then attach a life-like crown to each one. Implants may be more costly than other restorative methods and can take several months to complete. But they are life-like, highly durable, and don't require any alteration to other teeth. A disadvantage is that you should wait until at least 19 years of age to consider this option.  What many people do is use a temporary solution until the proper age to do a dental implant.
Each of these methods have their advantages and disadvantages, which should be thoroughly reviewed in consultation with your dentist. And each may also require other dental work, such as initial orthodontics to open adequate space for a restoration. But any of these methods for correcting a missing lateral tooth can be effective and help restore both a healthier mouth and a more attractive smile.
If you would like more information on treating congenital dental defects, please contact us or schedule an appointment for a consultation. You can also learn more about this topic by reading the Dear Doctor magazine article "When Permanent Teeth Don't Grow."
By KATHLEEN M. GEIPE, DDS, PA
October 01, 2018
What Are Dental Implants?
Thinking about dental implants? For many years, the only tooth replacement options available were dentures and bridges. But, today, dental implants are available. Dr. Kathleen Geipe's dental office is located in Salisbury, MD. She offers state-of-the-art dental implants to her patients. Here's everything you've ever wanted to know about dental implants.

What are dental implants?

Dental implants are artificial tooth roots made of titanium that are secured in the jawbone. After the bone has bonded to the dental implants, replacement teeth are secured to the top of the implants. Unlike a traditional denture, which can be removed, dental implants are permanent.

What are the benefits of implants?

Many people are discovering the benefits of dental implants. dental implants will close the gaps in your smile, improve your appearance, and make you look younger. They will improve your clarity of speech and restore your ability to chew food. They will also fill out a face that otherwise would look sunken because of missing teeth.

Will I need bone grafting?

You may need a bone graft if your bone is too thin or soft and unable to support an implant. The bone graft materials can come from a variety of sources—sometimes it comes from the patient's body. Synthetic bone graft materials and laboratory-processed bone from an animal or human donor can also be used.
Are implants right for me?

You may be a candidate for dental implants if you are in good general and oral health. Ideal candidates for dental implants have healthy gum tissue that is free of gum disease. Adequate bone in your jaw is also needed to support the dental implants. Your dentist will determine if dental implants are suitable for you.

How do I care for dental implants?

Dental implants are like your permanent teeth and will require regular dental visits and conscientious at-home oral care. In order to keep your implants plaque-free, brushing and flossing still apply. Good oral hygiene must take place during and after placement of dental implants to keep them healthy.

What will happen without treatment?

Missing teeth can cause trouble chewing and speech problems. Tooth loss can also have many negative effects on your oral health including shifting of teeth and changes in the jaw joint. Without treatment, your jawbone will begin to deteriorate. Additionally, tooth loss can change the shape of your face, causing you to look old before your time.

Are you ready for a brand new smile? Start your journey today! Call Dr. Kathleen Geipe's dental office at 410-543-0599 today to schedule a dental consultation in Salisbury, MD. You will have a new quality of life with dental implants!
By Kathleen M. Geipe, DDS, PA
June 08, 2017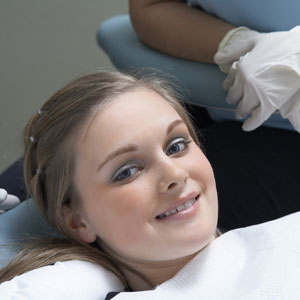 Dental implants are widely considered by both dentists and patients as the premier choice for replacing missing teeth. Unfortunately, implants aren't the appropriate choice for teenagers with missing teeth.
That's because their jaws won't fully finish most of their growth and development until early adulthood. An implant placed too early could become misaligned as the jaw matures. The best approach for a teenager is a temporary restoration until they're old enough for an implant.
There are a couple of good options. One is a removable partial denture (RPD), prosthetic (false) teeth set in an acrylic base that mimics gum tissue at the locations of the missing teeth. RPDs, which stay in place by way of metal clips that fit over other teeth, are easy to wear and maintain.
On the downside, an RPD can break if you bite into something too hard. They can lose their fit and may need to be replaced with a new one. And, some teens aren't quite keen on wearing a "denture."
Another option is a bonded or Maryland bridge, a kind of fixed bridge. We bond dental material to the back of a prosthetic tooth with portions of the material extending out from either side of it.  We then bond these extending tabs to the back of the teeth on either side of the prosthetic tooth to hold it in place. Unlike traditional bridges, we can eventually remove it without any permanent alterations to the teeth it's attached to.
Before we undertake a bonded bridge, though, we must make sure the gums and bone of the surrounding teeth are free from periodontal (gum) disease and are healthy and strong enough to support the bridge. We also need to be sure the patient doesn't have a deep bite or a teeth grinding habit, which could cause the teeth to make contact with the tabs and break them.
The patient also needs the maturity to responsibly perform diligent oral hygiene: this type of bridge has a tendency to build up disease-causing plaque, so brushing twice and flossing once every day is critical. Not doing so increases the risk of tooth decay or periodontal (gum) disease, which could complicate a future implant.
We can discuss these options after a thorough dental examination of your teenager. Either way, we'll be able to restore your teen's smile until we can undertake a more permanent restoration.
If you would like more information on tooth replacement options for teenagers, please contact us or schedule an appointment for a consultation.